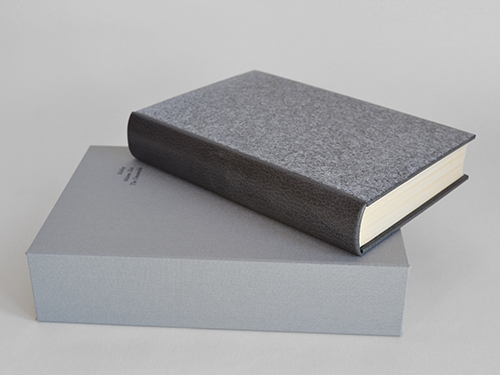 Molloy, Malone Dies and the Unnamable by Samuel Beckett

Bound in 2018

John Calder 1959, First edition
200 x 140 x 37 mm

Full leather binding in medium grey goatskin. Grey leather joints and doublures. The endpapers have been printed using drypoint etching technique. Hand sewn silk headbands. Hand tooling in light grey shades.

Beckett's three novels in non-traditional narrative explore the themes of the existentialist: One is born, one suffers and one dies. We must go on amid the evidence that life is meaningless, hopeless, full of despair and anguish. The design is to represent meaningless scratches one makes in order to carry on living ('I can't go on, I will go on.'). Tooling has been used as a method of creating texture (as opposed to a method of decorating accurately).